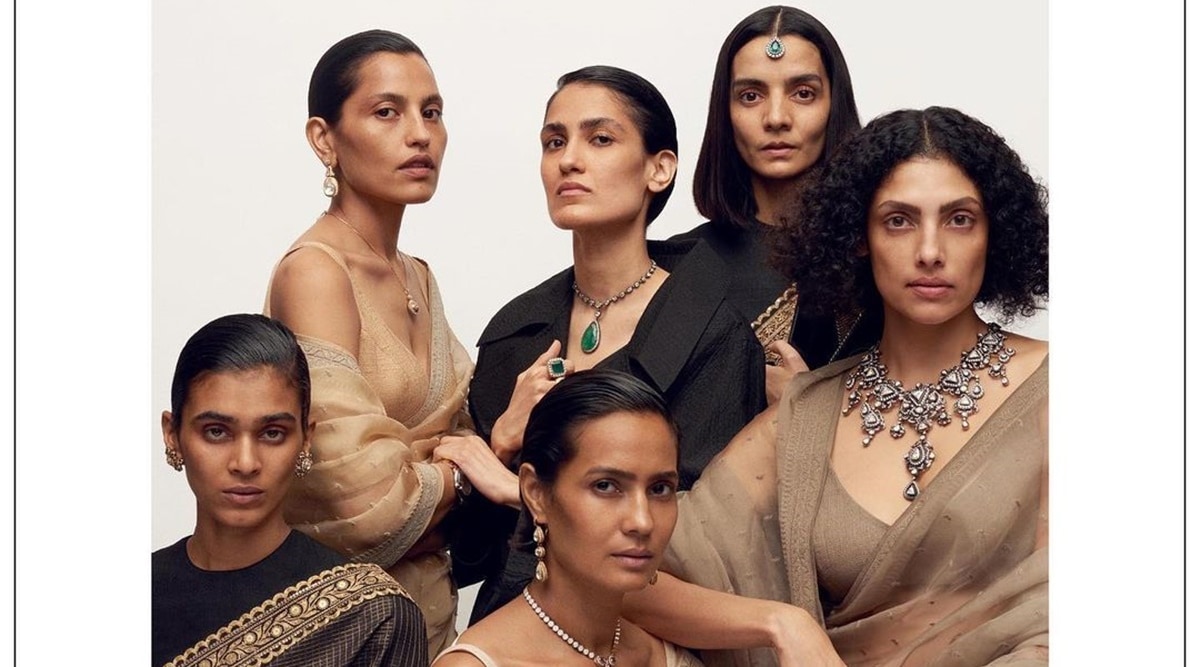 Fashion and jewelry designer Sabyasachi Mukherjee is once again the target of internet trolls, this time for an image promoting the brand's fine jewelry in the Fall Winter '21 collection campaign. The image, which caused a sensation, is of three models adorned with jewelry and Sabyasachi clothing. It receives both criticism and appreciation from Internet users on Twitter and Instagram.
The post shared from the designer's official Instagram account reads: "Sabyasachi Fine Jewelery @sabyasachijewelry with uncut and brilliant cut diamonds, opals, pearls, emeralds, aquamarines and colored stones in 22 karat gold. "
The comments section on the post is filled with statements like "Why are they so sad?" This is not happening "and" Everyone looks in mourning "of Instagram users.
Twitter has also been inundated with comments that criticize the models' expressions.
#Sabyasachi .. of whom are they mourning death? pic.twitter.com/AH7YFjs5Y0

– radha raju (@ radharaju18) November 27, 2021
This ad is a classic case of: Money Can't Buy Happiness! ??#covid variant #omicron #sundayvibes # Thoughts Sunday #Sabyasachi pic.twitter.com/E84UP6Tvaw

– poornima datta toprani (@poornimajt) November 28, 2021
Some even went so far as to "correct" the image as well as swap the faces of the models:
Hencw turned out to be beautiful, you don't need expensive jewelry. You just need a smile. Oh shit, this is your business #Sabyasachi pic.twitter.com/q2rEYNYJnu

– Vasu (@ Yagyaseni78) November 27, 2021
#Sabyasachi
Now that looks good… ..🤣🤣🤣 pic.twitter.com/bEvJHurSCs

– रवि शंकर 🇮🇳 (@RohtakRavi) November 27, 2021
However, some tweets and comments pointed to the global appeal of imagery and that "the idea is to promote the confidence of women without makeup while focusing on the richness imparted by jewelry # No tam jham # only Jewel attitude (sic), "one Instagram comment said.
Another Instagram user pointed out, "I love outfits and necklaces, which finally represent the real world with models. The world of film and modeling has caused tremendous damage to the self-image and mental health of women, with slim and airbrushed models. It's time to get real ".
The number of women I have seen trolling these 3 models on their looks is incredibly high. The ad is literally for sabyasachi jewelry .. so I can't understand the obsession with their "dull skin".
Just say you all have a problem with models looking like average Indian women in an advertisement. https://t.co/ZaeN8ny2vx

– m (@luco_zain) November 27, 2021
Sabyasachi was recently criticized for The Royal Bengal Mangalsutra campaign, which featured heterosexual and gay couples, whom some called "obscene", "shameful" and "lingerie commercial".
?? For more lifestyle news, follow us on Instagram | Twitter | Facebook and don't miss the latest updates!
.

For More News Go To DailyNewsCatch and Follow on Our Twitter Page DailyNewsCatch