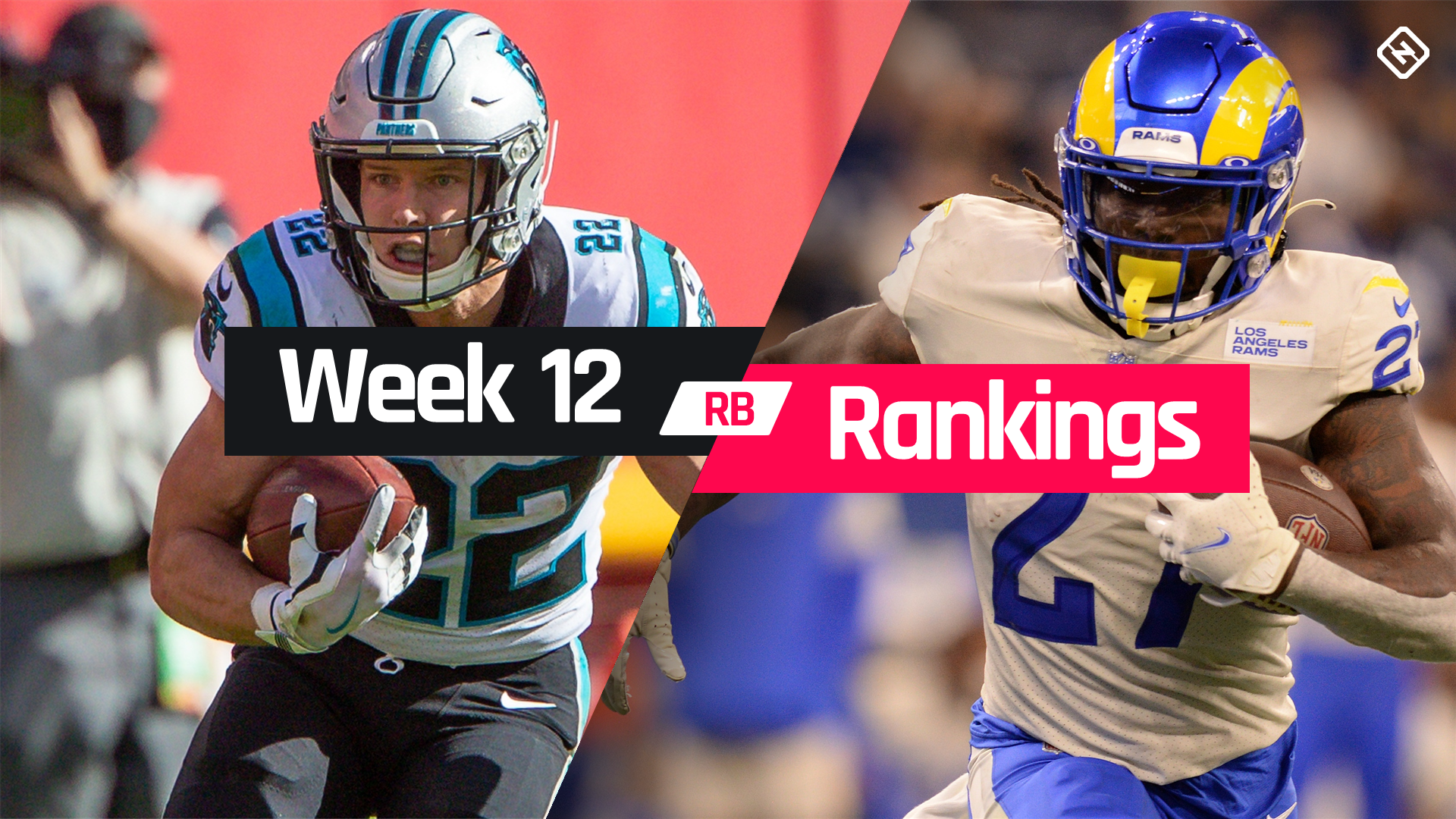 Thanksgiving week is always tough for fantasy football owners. They are understandably distracted by vacation plans, and Thursday's three games tend to create more headaches for beginners. This is especially true at a position like the running back, who continues to be the revolving door for key players entering and exiting the rosters. Our Week 12 RB fantasy leaderboards factor in all of these factors to help make your Thanksgiving (and Black Friday) a little less stressful.
Fortunately, only two teams (Cardinals, Chiefs) are goodbye this week, and while that takes a key producer away from James Conner, Clyde Edwards-Helaire and Darrel Williams may pose more of a problem than they are now worth only CEH is healthy again. . You may worry about this issue in week 13.
STANDARD RANKING FOR WEEK 12:
quarterback | Wide receiver | Tight end | D / ST | Kicker
Kareem Hunt (calf) is eligible to exit the IR this week, and if he's ready, he'll be in a favorable game against Baltimore. Miles Sanders (@ Giants), who returned last week, is in a similar location. Both will be worth at least flexible spots in all formats.
WEEK 12 PPR RANKS:
quarterback | Back | Wide receiver | Tight end | D / ST | Kicker
Many committee situations are still pending. Alex Collins and the rest of the Seahawks (@ Washington), Latavius ​​Murray and Devonta Freeman (vs Browns), Damien Harris and Rhamondre Stevenson (vs Titans), and David Johnson and Rex Burkhead (vs Jets) are all tough calls. It's hard to say who will get the most runs (especially around the goal line) in any of these committees, and with varying levels of showdown, it's even harder to know who you can count on. Harris has the most TDs upside down, which puts him in contention for a starting spot, but it's hard to rely on the others. The two Houston full-backs have by far the best clash for RBs, so it looks like at least one will pay off, but even with a favorable clash both have low floors.
WEEK 12 FANTASY: Sleepers | Busts | Start them, sit them down
One committee that is well placed this week is the Denver duo of Melvin Gordon and Javonte Williams (against Chargers). Game time isn't any clearer after last week's bye, but with a clash against a defense allowing RB's second-biggest FPPG, Gordon and Williams should be in most fantastic lineups. Jeff Wilson Jr. (vs. Vikings), Tony Pollard (vs. Raiders), JD McKissic (vs. Seahawks) and Jordan Howard (@ Giants) are other side backs who have flexible potential through supportive games. As usual, none of them have ceilings that are too high, but they should have higher floors this week.
WEEK 12 LINEUPS DFS: DraftKings | FanDuel | Yahoo
There are two committees that stand out as being in particularly tough places, like the D'Onta Foreman and Adrian Peterson (@ Patriots) and Devin Singletary and Zack Moss (@ Saints) have two of the worst games for running backs. Considering the general weakness of their respective lows, you can't trust any this week. This could also be true for Myles Gaskin (vs. Panthers), but he dominated the keys in the Dolphins' backfield, so he still has some flex value, especially in PPR leagues, depending on volume.
WEEK 12 DFS: Best values ​​| Range generator
It's shaping up to be a 'stick with your stars' week. There are some tough clashes for key guys, like Jonathan Taylor (vs. Buccaneers), Dalvin Cook (@ 49ers), Leonard Fournette (@ Colts), Joe Mixon (vs. Steelers) and Darrell Henderson (@ Packers), but these players are all too good to sit. Injuries will no doubt rock this position later in the week, but we'll deal with that as the training reports come in.
To note: We'll be updating these RB rankings throughout the week, so check back for analysis and the latest player moves.
Fantasy RB Week 12 Ranking: Who to start as a running back
Rankings are based on standard, non PPR rating
| | |
| --- | --- |
| Rank | Player |
| 1 | Christian McCaffrey, CAR @ MIA |
| 2 | Najee Harris, PIT @ CIN |
| 3 | Ezekiel Elliott, DAL vs. LV |
| 4 | Jonathan Taylor, IND v TB |
| 5 | James Robinson, JAX vs. ATL |
| 6 | Nick Chubb, CLE @ BAL |
| 7 | Elijah Mitchell, SF v MIN |
| 8 | Dalvin Cook, MIN @ SF |
| 9 | Austin Ekeler, BAC @ DEN |
| ten | David Montgomery, CHI @ DET |
| 11 | Antonio Gibson, WAS vs. SEA |
| 12 | Saquon Barkley, NYG vs. PHI |
| 13 | Josh Jacobs, LV @ DAL |
| 14 | AJ Dillon, GB v LAR |
| 15 | Cordarrelle Patterson, ATL @ JAX |
| 16 | By André Swift, DET vs. CHI |
| 17 | Joe Mixon, CIN vs. PIT |
| 18 | Melvin Gordon, DEN v. BAC |
| 19 | Javonte Williams, DEN v. BAC |
| 20 | Léonard Fournette, CT @ IND |
| 21 | Darrell Henderson, LAR @ GB |
| 22 | Miles Sanders, PHI @ NYG |
| 23 | Kareem Hunt, CLE @ BAL |
| 24 | Damien Harris, NE v TEN |
| 25 | Mark Ingram, NO v BUF |
| 26 | Myles Gaskin, MIA vs. CAR |
| 27 | Devonta Freeman, BAL vs. CLE |
| 28 | Tevin Coleman, NYJ @ HOU |
| 29 | Ty Johnson, NYJ @ HOU |
| 30 | Tony Pollard, DAL vs. LV |
| 31 | Boston Scott, PHI @ NYG |
| 32 | Alex Collins, SEA @ WAS |
| 33 | JD McKissic, WAS vs. SEA |
| 34 | Rex Burkhead, HOU vs. NYJ |
| 35 | David Johnson, HOU vs. NYJ |
| 36 | Jeff Wilson Jr., SF vs. MIN |
| 37 | Kenya Drake, LV @ DAL |
| 38 | Jamaal Williams, DET v CHI |
| 39 | Rhamondre Stevenson, NE v TEN |
| 40 | Latavius ​​Murray, BAL v CLE |
| 41 | Tony Jones Jr., NO vs. BUF |
| 42 | Onta Foreman, TEN @ NE |
| 43 | Dontrell Hilliard, TEN @ NE |
| 44 | Devontae Booker, NYG v PHI |
| 45 | Zack Moss, BUF @ NO |
| 46 | Devin Singletary, BUF @ NO |
| 47 | By Ernest Johnson, CLE @ BAL |
| 48 | Mike Davis, ATL @ JAX |
| 49 | Samaje Perine, CIN vs. PIT |
| 50 | Nyheim Hines, IND v TB |
| 51 | Kenneth Gainwell, PHI @ NYG |
| 52 | Rashaad Penny, SEA @ WAS |
| 53 | Jeremy McNichols, TEN @ NE |
| 54 | Alexander Mattison, MIN @ SF |
| 55 | Duke Johnson, MIA vs. CAR |
| 56 | Brandon Bolden, NE v TEN |
| 57 | Ronald Jones II, TB @ IND |
| 58 | Khalil Herbert, CHI @ DET |
| 59 | Matt Breida, BUF @ NO |
| 60 | Sony Michel, LAR @ GB |
| 61 | Chuba Hubbard, CAR @ MIA |
| 62 | Carlos Hyde, JAX vs. ATL |
| 63 | Giovani Bernard, CT @ IND |
| 64 | Jaret Patterson, WAS vs. SEA |
| 65 | Ty'Son Williams, BAL vs. CLE |
| 66 | Larry Rountree III, BAC @ DEN |
For More News Go To DailyNewsCatch and Follow on Our Twitter Page DailyNewsCatch